Small Alternative Investment Fund & Cryptocurrency License in Estonia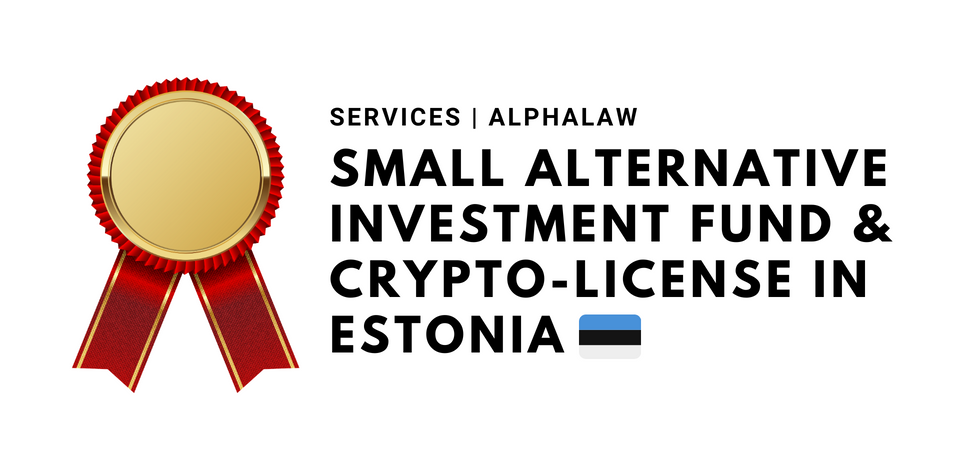 Funds management is a regulated business. You can manage funds through an investment organisation (regulated by the securities market law) or an investment fund (regulated by the Investment Funds Act).
The legal environment in the Republic of Estonia provides with the possibility of organising the collection and attraction of investments, as well as further management of collective assets within the framework of simplified regulation of Small Alternative Investments Funds.

Alternative Investment Fund (AIF) in Estonia is the most convenient structure for collective investment, in which investors' assets are attracted for the purpose of their further use and placement in their interests in accordance with a predetermined investment policy under the direction of the company that managed the fund. Registration of Small Alternative Investment Fund (AIF) is the best solution for collective venture capital investments and investing in stocks (listed and unlisted), bonds, derivatives, currencies, cryptocurrency and crypto-assets, real estate and other financial assets.
---
AlphaLAW is happy to offer the full assistance in getting a cryptocurrency license in Estonia. Our experienced team will provide you with the exceptional advisory service in order to get a Crypto-License in Estonia.
Amendments to MLTFPA that affect Estonian crypto-companies are entered into force from 15.03.2022. New requirements for obtaining a crypto-license in Estonia are stated here.
From 15.03.2022 Estonian legislation allows you to apply for obtaining two types of cryptocurrency licenses:
1. Virtual currency wallet service + Virtual currency exchange service
Combined type of crypto license allowing to store and exchange cryptocurrency against a fiat currency or a fiat currency against a cryptocurrency or a cryptocurrency against another cryptocurrency.
2. Virtual currency transfer service
Such license allows to provide service of a transaction conducted electronically at least in part through the cryptocurrency service provider in the name of the initiating party with the aim of moving the cryptocurrency to the recipient's cryptocurrency wallet or cryptocurrency account, regardless of whether the initiator and the recipient are one and the same party or whether the initiator and recipient are using the same service provider.
The National Financial Intelligence Unit (FIU, or Rahapesu Andmebüroo, RAB) is a government institution responsible for granting companies a Crypto-License in Estonia. It is required to obtain a relevant crypto license in Estonia from one of stated above to perform activities in the field of crypto services providing (in accordance to Law on the Prevention of Money Laundering and the Financing of Terrorism).
---